Seven Reasons to Consider Cloud Based Spam Filtering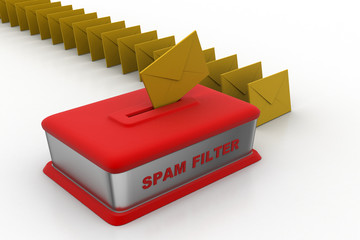 Email usage has grown in the corporate world and it has become the primary mode of communication between management, prospects, employees, partners, vendors, and investors.  At the same time disruption to this electronic communication has become a norm due to threats like spam, Trojans, and other forms of malware.
Several government and industry regulations have put immense pressure on organizations to secure their email communication.  To effectively combat the rising threats, businesses has two choices- onsite spam solution and cloud-based spam filtering.
The traditional onsite solution is lesser attractive for companies. Here are 7 reasons why corporations are considering cloud based spam filtering for protecting email communications.
      Lesser Prone to Failures
Cloud-based filtering service providers can use more than one Internet connections to eliminate connectivity failures. If one Internet connection goes down, the vendor can queue up messages and the delivery can start as soon as Internet connectivity is restored.
      Lower Cost of Ownership
The cost advantage of using cloud based spam filtering is clear. Businesses can avoid initial long-term investments such as complex hardware, software, and dedicated staff to manage the anti- spam solution.
The cloud service provider takes care of all infrastructures required and all costs related to internal staffing. Majority of the cloud service providers charge per user and the charges remain constant even when mail volumes increase.
Businesses can easily predict the budget of managing a cloud based spam filtering solution whereas maintaining an onsite solution can be difficult due to unpredictable costs.
      Saves Bandwidth and Storage Space
When you employ an onsite spam filtering solution, your email server will receive all spam messages before filtering it. It means spam messages will occupy a large amount of server space and also consume a large part of Internet bandwidth.
In cloud based spam filtering setup, the messages are received at server managed by the vendor. The spam filtering is done before the email messages are sent to your organization's mail server. This saves the Internet bandwidth and only legitimate mail reaches your mail server thereby saving valuable storage space.
      Filters Inbound and Outbound Messages
The cloud based spam filtering solution can ensure no spam messages are sent from your mail server, knowingly or unknowingly. Since the spam filter also filters outbound mail, you can rest assured the company reputation is never hurt and your customers, vendors, partners never receive unsolicited mail from your organization.
      Implementation and Maintenance
When you employ cloud based spam filtering solution, you don't have to worry about the implementation. The vendor takes the responsibility of configuring the email server as well as endpoint systems.
The vendor determines the web and instant message protection policy to suit your business requirements. Besides, the vendor also offers 24/7 support to deal with any issues related to spam filtering.
Though the spam filters are cloud-based, your organization has total control over the white and black email lists and IP addresses.  Your anti-spam solution vendor offers administration capabilities through a web-based portal. The administrative tools provided offer you a wealth of information about the anti-spam service such as reports in real-time and service statistics.
      Reliability and Scalability
Cloud-based spam filtering solutions are highly effective in stopping spam messages from entering your organization network. The vendor takes the required steps to upgrade software, spam filters, and virus definitions that is necessary to provide optimum protection from spam.
The infrastructure of the cloud-based anti-spam solution is scalable and the data center of the vendor has the ability to balance load within a data center or across data centers.  Majority of the cloud-based anti-spam solution providers offer antivirus SLA  that guarantees no unknown virus will enter client's network.
      Email Continuity
Anti-spam solutions provider also offer email continuity which ensures your employees always have access to their emails. In case, your email server is offline or there is an email outage, the email server of the anti-spam service provider continues to receive your email and your employees can access and respond to messages through a web-based portal.
With all the benefits offered by cloud based spam filtering solution, there is no reason why businesses should go for the expensive onsite anti-spam solution.